FOUNDER CHAIRMAN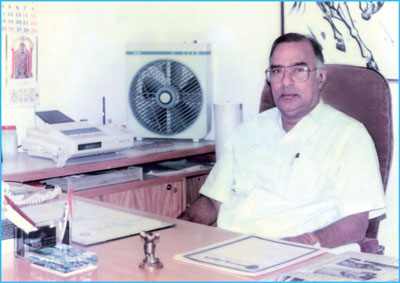 Sri Alluri Venkateswara Rao, Founder Chairman of Avanti Feeds Limited, born on 7th July, 1933 in the Agriculturalists & Industrialists family in Kovvur, West Godavari District, Andhra Pradesh. He was always inspiring the development. He had rich experience in the fields of
Steel Rerolling
Solvents Extractoin
Fertilizer & Pesticides
Tobacco
Amino Acids
Aqua Feeds Manufacturing
Aqua Products Processing & Exports
When the Blue revolution characterized by proliferation of aqua farms needed support for their growth, Mr.Alluri Venkateswara Rao took lead with a vision to take the aqua industry into new heights, established Avanti Feeds Limited in Kovvur, the central coastal belt, West Godavari District, Andhra Pradesh, India, in the year 1994 with a technology tie-up with Pingtai Enterprises, Taiwan and introduced international quality shrimp feeds for shrimp farming in India. Thus the Aqua Industry had seen light in India.
He had further taken it to the heights creating sustainable markets for the shrimps produced by the farmers in India by establishing "Aqua Products Processing & Export Division (APED) meeting International standards with state-of-art infrastructure facilities in 1998 near Ravulapalem, East Godavari District, Andhra Pradesh, India. APED offers complete hygienic and value added aqua products for exports to USA, Japan, Australia and UK. Thus the Aqua Industry further developed in India creating its charisma globally.
He started AVR Trust in 1999 with a vision to support Education Sector and fulfilled his dream by establishing a Degree and PG College by name "ABN & PRR College of Sciences", Kovvur, West Godavari District, Andhra Pradesh. The College has modern infrastructure facilities and offers Graduate and Post Graduate courses in Arts, Commerce and Sciences with utmost discipline by eminent faculty. Thus he supported Educational Sector in the needy region.
Sri Venkateswara Rao helped several Institutions by his munificent donations. He donated liberally to Educational Institutions, Hospitals and to Social service Activities. He is the major donor for the following Institutions:
Vignan Jyothi Educational Academy at Hyderabad
Sanskrit College, Kovvur, West Godavari District, Andhra Pradesh
Bhimavaram Hospitals, West Godavari Dist., Andhra Pradesh
Old-age Home at Kannapuram, West Godavari District, Andhra Pradesh