| | |
| --- | --- |
| PRAWN KING | |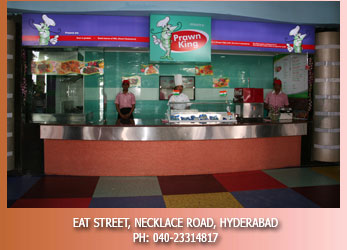 Foray into Domestic Market
Having achieved phenomenal success in export market, Avanti has ventured into domestic market with an object of providing export quality shrimp ready to eat and ready to cook product to Indians by launching "PRAWN KING" brand products.
Avanti envisages to cater to the prawn consumption of Hotels, Restaurants and household by establishing eateries-cum-shops for selling ready to eat and ready to cook shrimps. To start with, Avanti has started an eatery in "Eat Street in Necklace Road, Hyderabad" and plans to open similar outlets in a span of one year in Hyderabad and expand to other cities in phased manner.
Just step in and tuck into a mouth-watering range of highly nutritious prawn delicacies, like Golden Fried Prawns, Butter Fried Prawns, Ginger Prawns, Prawn Noodles, and also Fish Fries, Fish Fingers and more, specially created for your taste buds by our master chefs. And also take home export quality prawns, processed and packaged as per our stringently hygienic standards.
Avanti's Prawn King processed hygienically complying with HACCP standards with USFDA, BRC accreditations in place. It is certified ISO 22000:2005 and certified by ACC for its best aquaculture practices. Avanti's cold supply chain continues to give its delicious tastes across India.